Downtown Student Living at Unity Place
495 Princess St, Kingston, ON
Project Overview
Project Scope
Project Overview
Situated in the prime location of downtown Kingston, Unity Place is a state of the art community living space with move-in ready accommodations for students and young professionals. From the outset, our mission was clear: to provide this contemporary accommodation development with the highest quality doors, frames and hardware. We collaborated with the developer to outline their requirements and curated a selection of samples to complement the broader design aesthetic.
Project Scope
Characterised by sleek, two-toned architecture and clean lines, this contemporary interior space required modern doors and hardware. Our expert team carefully curated products in a range of materials, finishes and textures to complement the design aesthetic and elevate the vibrant, downtown living space.
All the hardware in the units was selected to enhance the sleek and uniform design specification we had outlined for the project. The door hardware on this project included industry-leading items such as Canaropa straight model levers and Yale 4700N series locksets.
A step outside of the ordinary for us: we supplied shower and washroom hardware on this project. Our team opted to install Taymor products in some of the washrooms, including the QUBE paper holder in a finish to match the towel bar and the shower tension rod. Other washrooms were completed with FROST products, including grab bars, towel racks and paper holders.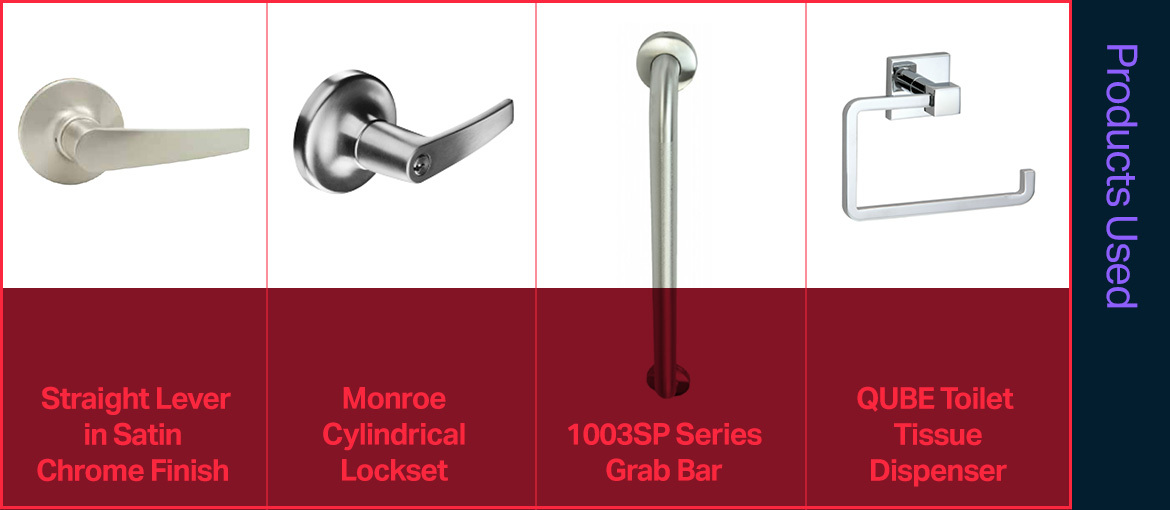 As with all large-scale construction projects, there were logistical challenges to overcome to ensure seamless delivery from conception to completion. During the construction phase, our project managers spent a lot of time on-site directly overseeing the delivery of the works and adapting to suit the changing needs of the contractors.
Our sales team were directly involved with Podium Developments from the very beginning: allowing us to develop the scope to hit all their needs. As a result, the working relationship between Select Door and Frame and Podium Developments has never been stronger, and we look forward to delivering success with them on many more projects in the future.