What are fire-rated doors?
As the name would suggest, fire-rated doors – or 'fire doors' – are created to withstand the effects of a fire and can survive a lot longer than the best ordinary doors.
Fire doors serve two vital functions in every commercial and large residential building – from restaurants to care homes, educational facilities to factories:
When closed, they form a barrier to keep heat, flames and smoke – and in some cases, toxic gases – from spreading to different parts of the building.
When open, they serve as a means of easy escape – and buy much needed time – for the building's occupants
To do their job successfully, fire doors are required to be:
Made from the correct materials and feature the right hardware
Installed properly and placed strategically around the building
Let's take a closer look…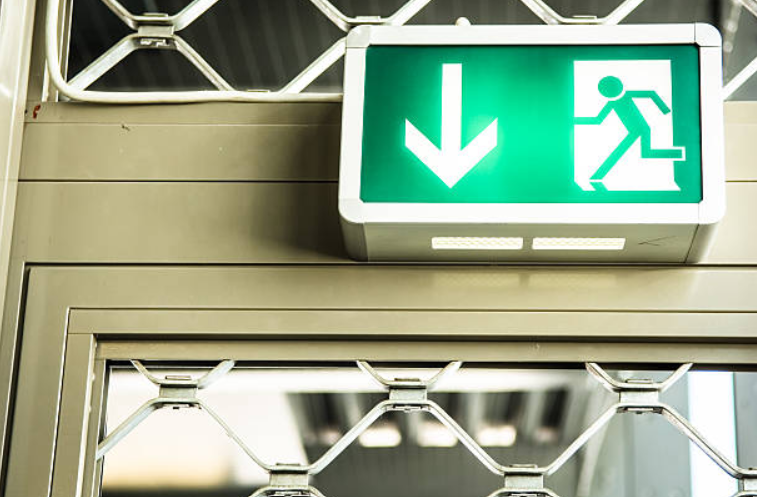 What are fire doors made from?
Fire doors are mainly made from timber or steel – but in some cases, gypsum and aluminium – or a combination of all four.
Steel doors usually have higher fire ratings because steel is non-combustible and will not feed the fire.
Wooden fire-rated doors, meanwhile, usually contain a gypsum core – a heat-resistant and non-flammable soft mineral. Gypsum can be used in hollow steel doors too.
If a fire door has windows these will be made from borosilicate or ceramic glass – both of which are more fire resistant than standard glass. Such glass windows may contain anti-shattering wire mesh too.

Do fire-rated doors have special mechanisms?
Yes, fire doors are legally required to have a fire-resistant self-closing and self-latching hardware mechanism, usually fitted at the top. These spring-loaded or hydraulic mechanisms force the door to close, which in turn prevents fire and smoke from passing from one area to another.
Along with a self-closing mechanism, fire doors also require special steel ball-bearing hinges, which are more durable than standard hinges.
What about the door frame itself?
Being non-combustible and non-flammable, steel is the most common material used in door frames. Fire-rated doors are designed to be flush to the frame, too – with any gaps filled with silicone-based fire-resistant sealant. This is often accompanied by an intumescent strip attached at the base of the door, which expands when exposed to heat to prevent smoke from seeping underneath.

Where are fire doors located in a commercial building?
They are laid out in a way that enables fire compartmentation – a process that places physical barriers in strategic areas around a building to slow the spread of smoke, flames or even toxic gases – and which allow for the flow of traffic around the building.
Who certifies fire doors in Canada and North America?
In order to be sold in Canada and the US, fire doors and fire door frames must be tested and certified by an independent ISO 17065 Accredited Agency.
In Canada the National Building Code of Canada requires all fire doors to be rated to CAN/ULC S104 by a Standards Council of Canada accredited certification body. The US International Building Code (IBC) requires all Fire Doors to be Listed by a recognized Agency to UL 10B, UL 10C or NFPA 252.
Fire door certification is awarded once a door has passed various tests at an approved centre, including a fire and stress simulation. Doors that have been certified can be identified by a label attached to their top edge, which states the manufacturer, date of manufacture, and designated fire rating.
What are the different grades of fire door?
There are different grades of fire door, and each one provides a different level of protection.
The grades are separated by how long they can withstand fire, the main ones being:
FD30 (30 minutes)
FD60 (60 minutes)
FD90 (90 minutes)
FD120 (120 minutes)
FD30 and FD60 are generally used for offices and residential buildings. Any grades over FD60 are more common for used in high-value properties or core infrastructure buildings, such as archives or server centres.
Conclusion
Certified fire doors are crucial for protecting your building and its occupants in the event of a fire – and they're easy to get right when you know how. Here at Select Doors we supply a wide range of fire-rated doors and we're always on hand to help with any of your queries. We'd love to hear from you.