Why Cleaning Commercial Doors is SO Good for Business
When looking after a commercial space, it can be easy for building managers to overlook the doors. But this hard-working, often over-looked, crucial fixture should be a No 1 priority. Commercial doors are gateways to your business; entryways to public spaces and high-functioning rooms – with the potential to make a brilliant first impression on visitors, clients and employees. Or a very bad one. In this blog we look at the ways to clean those all-important entryways and explore why doing so is so good for business.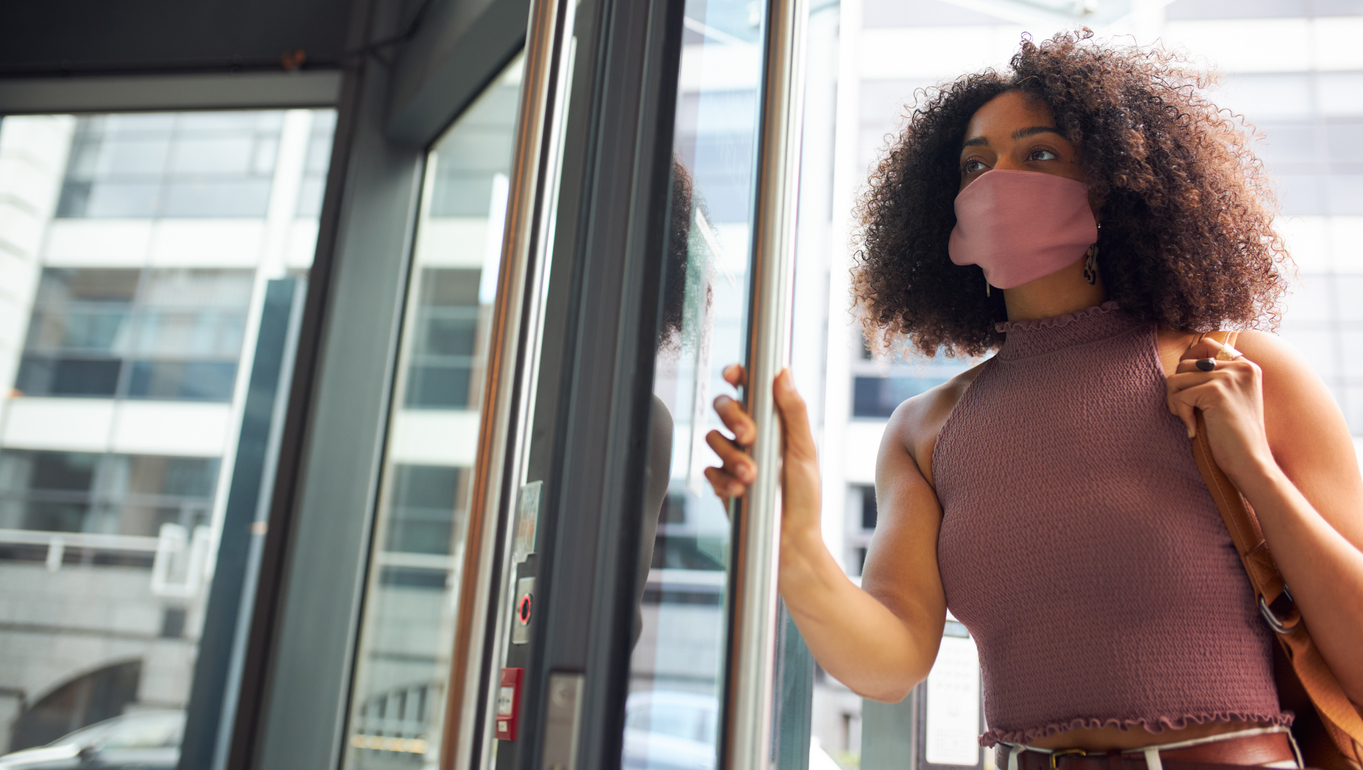 3 reasons it's crucial to clean 4
1.To prevent outbreaks
Doors are the most touched surfaces in buildings but can also be the most neglected – making them the perfect breeding ground for germs and bugs.
In our super safety-conscious, post-pandemic world we know how a nasty virus has the power to spread fast and wipe out workforces. This is not good for efficiency or productivity, obviously – and we should all be doing our best to prevent adding to the risk. To empower a healthy workforce and keep business running smoothly, managers must ensure doors are cleaned regularly.
2. To give the best impression of your business
A grimy, squeaky, or ill-functioning door is a poor advert for your business. Badly performing doors cause bad user experiences for customers and clients, employees and residents – and can lead to people feeling demotivated and unhappy. Which is never good for business. If your doors grind to a halt completely, people may simply turn on their heel and leave.
3. To comply with fire regulations
There's a legal imperative to keeping your emergency doors in tip-top condition and you don't want to be on the wrong side of it. Proper maintenance of your building's entryways and accessibility operators is vital for compliance with safety standards.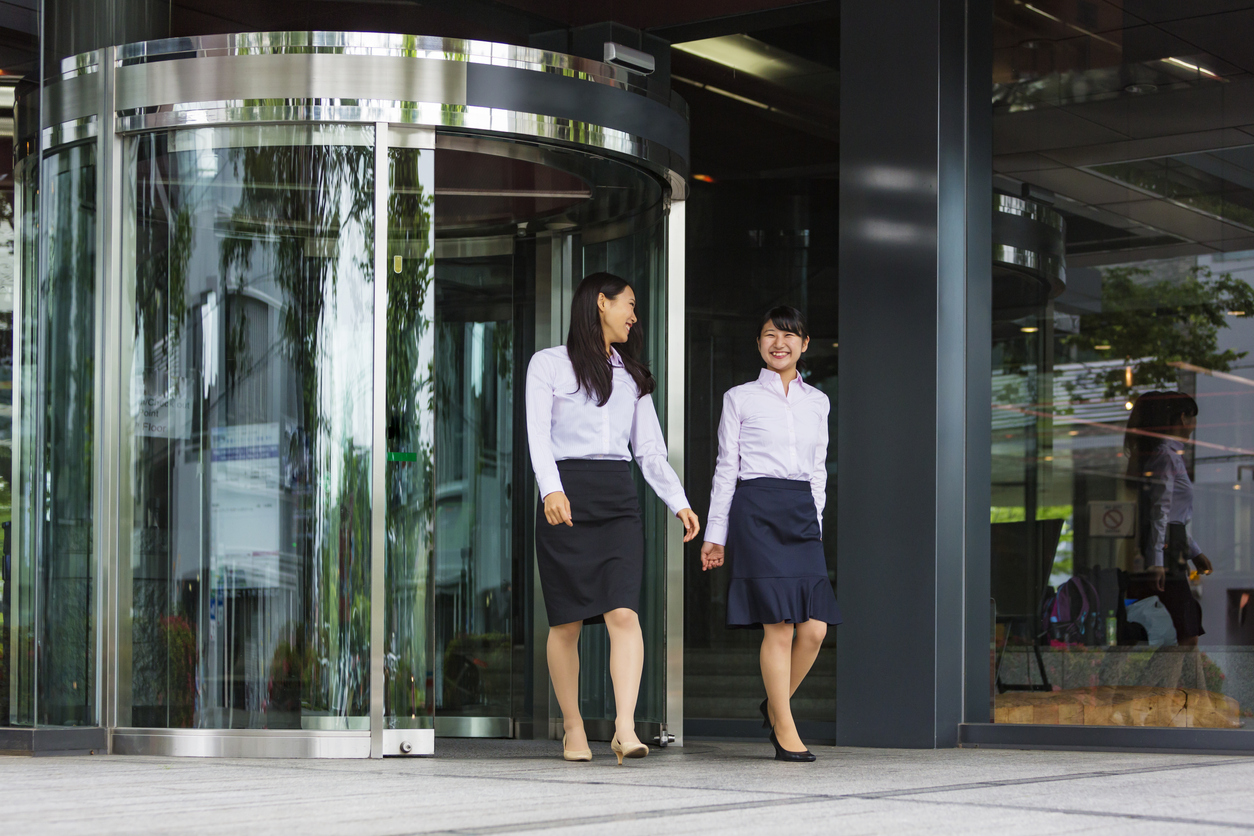 4 Top tips for caring for commercial doors
Whether you outsource to a commercial cleaning company or polish up your commercial property, in-house, here are some essential steps to ensure your doors dazzle, function correctly, stay on the right side of the law – and leave people with a brilliant impression.
1.Do the correct prep
First up, consider your door's material and make sure to match the right cleaning solution to its surface. Secondly, always prepare your door for cleaning by giving it a good dust with a duster or soft dry cloth first. Rubbing dust and grime back into the surface of the door with a wet cloth can damage doors.
2.Treat each door differently
  Wooden doors
To prepare: use your soft dry cloth around the frame to remove all dust.
Spray another cloth with a wood-safe cleaner and wipe in the direction of the grain. Once the door is clean, buff it with a dry cloth to remove any excess cleaning fluid.
Use an appropriate metal cleaner on your wooden door's handles and hinges.
  Metal doors
Prepare as above. For powder-coated or stainless-steel doors, use alcohol-based cleaning solutions – but never acid-based cleaners.
  Glass doors
A glass door is made up of lots of different pieces, including glass panes, tracks, handles and hinges, and requires, as with all doors, lots of care and attention.
First, use a dry cloth or duster to clean the door's slider tracks. Make sure to do this regularly to avoid build-up of grime and dust.
Next, use a metal-appropriate multipurpose cleaner and clean the frame. As mentioned above, alcohol-based cleaner can be used on stainless steel.
With an  exterior glass door, use a soft cloth to remove loose dirt first.
Next, use a window cleaning solution to remove grime and clean from top to bottom. Do this twice, if necessary, then dry with an absorbent cloth.
  Revolving doors
Follow the steps above but bear in mind: revolving doors and speed gates often have different finishes to standard glass or wooden doors, so its super-important to choose the right metal-, glass- or wood-appropriate cleaning agent for each element of the door.
3. Clean regularly
How often should we clean commercial doors? While it depends how often they're used, cleaning the whole door once a week is recommended as a minimum. Handles should be wiped at the end of every day. During flu season or rises in Covid infections – or any other widespread virus – we should be cleaning our surfaces every day.
4. Keep on top of maintenance
Cleaning is great, but, as with all mechanical maintenance, carrying out regular checks of your commercial doors is also business critical.
If a door gets damaged or stops working, the flow of people throughout your building can become disrupted, inefficient – and even end up in an accident.
To stay on top of maintenance, we recommend you follow your door's maintenance guide. Plus, when you work with Select Doors you can always contact us for service if your doors, hardware, or door operators don't appear to be performing as they should be.
Conclusion
The people who use your building rely on excellently presented and perfectly functioning doors for easy, seamless navigation. Therefore, maintaining doors' health, safety and longevity – and that of the accompanying hinges and handles – is not just good for your building's appearance and reputation; it's good for your people and good for business.
Commercial doors are a long-term investment. Look after them and they'll look after you, and all who walk through them!
Interested in working with us?
Select Door and Frame is Canada's leading supplier and distributor of high-performance, cost-effective doors, frames & hardware. From door and frame specification to product supply and installation, we offer a complete range of professional services that have kept our customers coming back for more than 25 years.
If you're interested in working with us, we'd love to hear from you. Get in touch today to see how to team up to provide the perfect doors, frames and hardware for your project.