For more than 25 years, we've been building success with commercial businesses across Canada and the USA. With our deep roots in the construction industry, we have the depth of knowledge and expertise to bring a project from concept to completion – that's why leading developers choose to collaborate with us time and time again.
We are proud suppliers to a wide range of industries: hospitality, institutional, workspace design and general construction, to name a few. In our latest blog, we explore some of the industries we've been serving for nearly 3 decades.
What kind of industries do we work with?
Public Services
We're experienced in working with a wide range of public services, from educational institutions and local authorities, through to care homes and hospitals. Every door we select is designed to fit perfectly and deliver complete functionality to users. We always put safety first, working with both union and non-union installers that follow the highest standards of health and safety procedures at all times.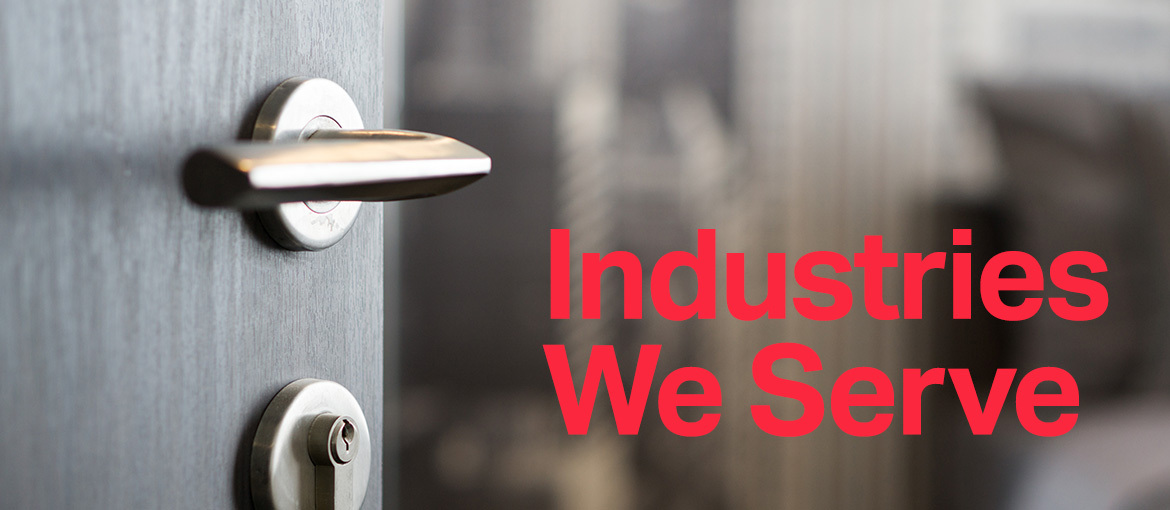 Hospitality
Our expert team partners with developers in the hospitality sector, delivering an elite range of doors, frames and hardware to a wide range of businesses. We've worked extensively with hotels of all shapes and sizes, as well as tourism facilities, recreational spaces and more. Whatever the design aesthetic, Select Door and Frame's expert team can provide the ideal doors and hardware to complement the design style; always taking into account budgetary requirements and construction deadlines.
Construction Rehab Projects
Since the very beginning, our work with the construction industry has helped us grow to become the leading supplier of doors, frames and hardware in Canada. We understand the challenges of construction projects and we're on hand to meet the changing requirements that developers and contractors might encounter. We offer a rapid service, providing the highest quality, custom-fit doors and frames to fit the schedule and budget of the build.
Office and Workspaces
With decades of experience working with the workspace and office design industry, we have a complete inventory of doors designed for use in the workplace. We stock and supply hollow metal doors, fire-rated doors, interior and exterior doors, all at the very best price. Whatever you need, you can count on our expert team to curate a selection of industry-leading branded doors tailored to your design specification and budget.
Why work with us?
Bespoke doors, frames and hardware to fit your exact requirements
Extensive range of door brands, sizes, styles, finishes and colours
Professional service from specification to installation
Cost-effective solutions for all budgets and tastes
Outstanding customer service and swift project delivery
Interested in working with us?
Select Door and Frame is Canada's leading supplier and distributor of high-performance, cost-effective doors, frames & hardware. From door and frame specification to product supply and installation, we offer a complete  range of professional services that have kept our customers coming back for more than 25 years.
If you're interested in working with us, we'd love to hear from you. Get in touch today to see how to team up to provide the perfect doors, frames and hardware for your project.