It's taken a lot of hard work, but we're finally here: introducing the new and improved Select Door and Frame! We've been making some changes to our existing website and branding, transforming our look to reflect our commitment to delivering our industry-leading doors, frames and hardware services to Canada and beyond.
Our upgraded website is now live and packed with new features and resources. Most importantly though, we've listened to your feedback and designed a website that is tailored to our customers. Here's a few of the changes we've made to
What's new for Select Door and Frame?
Bolder Brand Expression
Deciding on a fresh new look was an exciting journey for our team. We opted for a deeper colour palette, characterised by rich blues and a contemporary logo, demonstrating our passion for modern design aesthetics. By tweaking our colour palettes, type, visual devices and logo: we think our new branding embodies our forward-thinking company culture and ethos.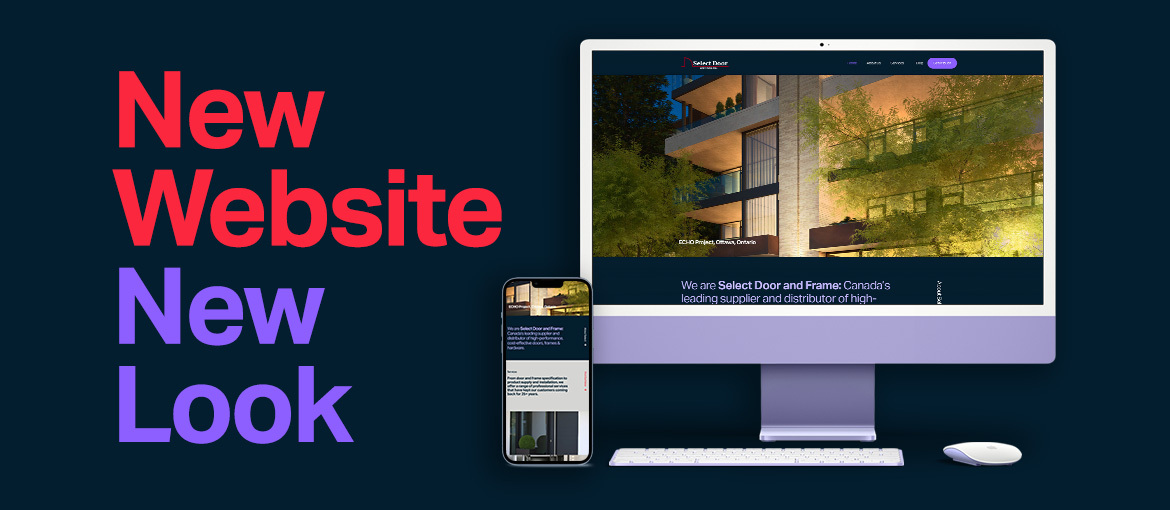 Enhanced Layout + Usability
The key to a successful website is seamless usability. We wanted our new digital home to provide total ease of use to our existing and prospective customers. That's why our new site is clean, simple and easy to navigate. We've refined our menus so it's easier to browse through our site, discovering our products, services, suppliers, blogs, case studies and much more.
Expert Blog
Our new website is all about delivering an improved experience for our customers. With our new blog you can expect expert knowledge, tips, the latest industry trends and advice from all members of our team. Stay tuned for striking imagery and fascinating insights from our industry professionals!
Case Studies
With over 20 years of experience, we're always partnering with developers to bring projects of all shapes and sizes to completion. In order to show off everything we have to offer, we're introducing a new case study section to our website: allowing you to learn more about the kind of work we do on a daily basis with our clients. From ten story residential apartment buildings and student housing developments to educational institutions and hospitals – we'll deliver in depth case studies to show you exactly how we deliver real results for our clients.
Discover our New Website
Check out our new website and let us know what you think! We hope you enjoy the enhanced web journey and get the most out of your browsing experience with Select Door and Frame.
Looking for a new door supplier? Need advice on an upcoming project? We're always here to help, so if you have any questions, or would like to learn more about Select Door and Frame, get in touch with us today.